In case you missed it, we are posting the article, "Let's Focus on a Farm's Performance, Not its Size," with permission, from Environmental Defense Fund's Growing Returns blog.
 | 
What comes to mind when you think of a "family farm?" You're probably picturing a bucolic spread of less than 100 acres, with a red barn, farmer in overalls, and cows grazing a big pasture. What about the phrase "corporate farm" or "?" Do you see a giant, impersonal and industrial-looking operation?
Unfortunately, these common (mis)perceptions are regularly promoted in everything from TV ads to online chats. But the reality is that "big" does not equate to "bad," and "small" doesn't necessarily mean "good" when it comes to sustainable farming. In fact, it's the wrong debate altogether.
What really matters is performance, not size.
Today is National Agriculture Day, celebrated annually on March 18, and this year's theme is sustaining future generations. If we're going to meet the needs of a rapidly growing population, we're going to need large and small farms alike. And no matter their size, they'll need to minimize their impacts on the natural systems that sustain us all.
Addressing the myth
It's a myth that large farms can't be sustainable, just as it's a myth that all family farms are small and better for the environment.
Take Christine Hamilton, for example, whose family farm produces corn, soybeans, winter wheat and cattle across 14,000 acres in South Dakota. For years she's been participating in USDA conservation programs, using no-till practices, planting trees to limit erosion, and utilizing variable rate technologies to improve the environment and her yields.
There are also places like Fair Oaks Farms, which milks over 500 cows … an hour. To make their large operation more sustainable, Fair Oaks pumps methane from its livestock to an on-site natural gas station that compresses it into fuel for the farm's fleet of 40 milk trucks.
Many small-farm operations implement sustainable practices as well. A perfect example is Full Belly Farms, a 400-acre organic farm in Northern California that won last year's prestigious Leopold Conservation Award. But I've visited small farms where livestock roam freely into streams, soil erosion destroys riverbanks, and nutrient management plans are nonexistent.
Sharing responsibility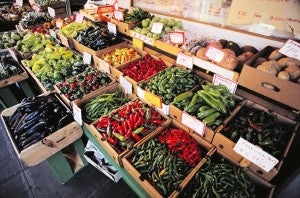 In the U.S., agriculture already occupies 51 percent of our land, uses 80 percent of the [Nation's consumptive*] water, and is responsible for 8 percent of our greenhouse gas emissions. And in the coming decades U.S. farms will be responsible for producing even more food. In order to make agriculture a plus for the environment, farm practices will need to change.
Of course, we have to keep in mind the context here. Mid-size and large-scale family farms account for 8 percent of U.S. farms but 60 percent of the value of production, so in order to bring sustainable agriculture to scale, they will have to do the bulk of the work. But small farms have a much higher share of production for specific commodities in the U.S. – they account for 56 percent of domestic poultry production, for example – so we'll need their leadership, too.
Regardless of size, all farms need to:
Minimize the loss of nutrients and soil to air and water through nutrient optimization strategies such as conservation tillage.
Use water as efficiently as possible.
Improve soil health through strategies such as cover crops.
Avoid plowing up ecologically important lands.
Fence livestock out of streams and implement management plans to maintain healthy grazing lands and avoid overgrazing
Use strategically placed filters to capture excess nutrients.
It's time we shift the public debate and get everyone on board the sustainability train. Arguing about a farm's size won't deliver environmental benefits. In the end, it's all about performance.
_______________________________________
*"California Ag Today added "Nation's consumptive" from the original USDA text and offers the following definitions:
"Consumptive water use" is a use of water that removes the water from the system so that it cannot be recovered for reuse by some other entity. Consumptive uses may be beneficial or non‐beneficial. A beneficial consumptive use would be crop evapotranspiration.
(Source: Agricultural Water Use in California: A 2011 Update 3 © Center for Irrigation Technology November 2011)
Evapotranspiration (ET) is the amount of water transpired by plants, retained in plant tissues, and evaporated from plant tissues and surrounding soil surfaces.
(Sources: (1) California Water Plan Update 2009 Glossary. Department of Water Resources. Resources Agency. State of California; (2) Agricultural Water Use in California: A 2011 Update 3 © Center for Irrigation Technology November 2011)
If the basis for the discussion is water consumptively used by only agricultural, municipal & industrial users, then agriculture's share would be estimated in the range of 80 percent of the total. However, if the percentage is based on dedicated water, which includes environmental uses, then agriculture's share is more in the range of 40 percent.
(Sources: (1) California Water Plan Update 2009 Glossary. Department of Water Resources. Resources Agency. State of California; (2) Agricultural Water Use in California: A 2011 Update 3 © Center for Irrigation Technology November 2011)
Dedicated water – as defined by the California Department of Water Resources (DWR) is "water distributed among urban and agricultural uses, used for protecting and restoring the environment, or storage in surface water and groundwater reservoirs. In any year, some of the dedicated supply includes water that is used multiple times (reuse) and water held in storage from previous years. This is about 40 to 50 percent of the total annual water supply received from precipitation and imported from Colorado, Oregon, and Mexico."
Context: Water Portfolio"1 (Source: Agricultural Water Use in California: A 2011 Update 3 © Center for Irrigation Technology November 2011)
Dedicated water includes water flowing in the Wild and Scenic Rivers. Many partially used or unrestricted rivers could have been significantly diverted for use by municipal & industrial and/or agriculture. However, these waters have been dedicated by law to the environment. Other examples of dedicated water are the 800,000 acre‐feet/year reallocated back to the environment by the Central Valley Project Improvement Act (CVPIA) and the 647,000 AF/year reallocated back for Trinity River restoration of that river's fishery.
(Sources: (1) Record of Decision. Trinity River Mainstem Fishery Restoration. Final Environmental Impact Statement/Environmental Impact Report. U.S. Department of the Interior. December 2000; (2) Westlands Water District vs. U.S. Department of Interior. Case Nos. 03‐15194, 03‐15289, 03‐15291 and 03‐15737. Argued and Submitted Feb. 9, 2004 ‐ July 13, 2004, United States Court of Appeals, Ninth Circuit)
_______________________________________
The Environmental Defense Fund (EDF) works directly with businesses, government and communities to create lasting solutions to the most serious environmental problems. EDF's Growing Returns Blog posts news about the organization's goal of meeting growing demands for food in ways that improve the environment.